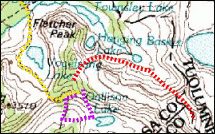 J.P. Lowe is ready for the backcountry.

It helped that he's about the same height as J.W. Lowe and doesn't mind wearing a few hand-me-downs (or is that hand-me-ups?).

On the way in, it was hard to be sure what the weather would be over the next few days, but during the day in the valley it was cool, not cold.