Our property's value is split unevenly between the land and the house — the land is worth much more than the house. On paper, at least. To the people who live on the property, though, the house gets the lion's share of attention and has many man-made systems to inventory. A useful way to understand all the systems is to capture them all in a computer model. I've chosen a free program from Google called "SketchUp" to model our house and maybe the surrounding land as well.
My home computing systems all run various flavors of Linux, and SketchUp runs on Linux thanks to "Wine", the Microsoft Windows emulator. Using the Wine forums, I was eventually able to get SketchUp running on my Fedora Core 11 desktop. Aside from a small square mask surrounding the cursor, it seems to run very well. The square mask hasn't been enough of an annoyance to prevent me from using SketchUp effectively.
To model our house, I began from the ground up, measuring our cellar's dimensions down to one eighth of an inch precision using a 30′ tape measure. Once I had the dimensions, I drew simulated the concrete pad with a 3″ deep shape, then built up the fieldstone foundation walls, leaving openings for windows and doors. Next, I added the topography at the level where it touches the foundation. Finally, I modelled the stairs going up to the first floor and the stairs exiting through the storm doors. The resulting model appears below.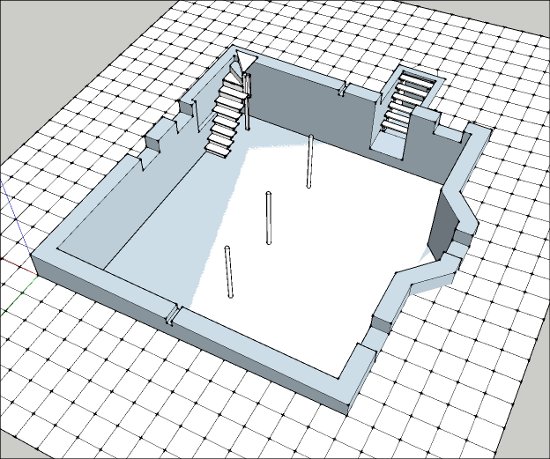 Next, I added windows from Google's 3-D Warehouse and adjusted them to fit the foundation openings exactly.  Next came the chimney.  And then, by measuring the joists and girders that are all visible from within the cellar, I added the wood framing, as shown in the below image: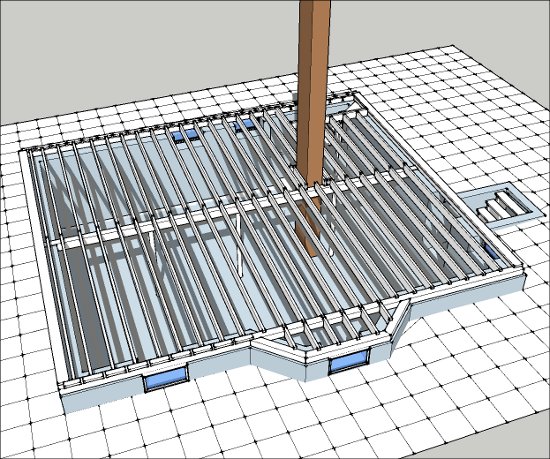 The ducts from the furnace will have to wait until the first floor is built, because I'll use the measurements of the vent openings to properly model the ducts feeding them.  The laundry machines can also wait until the rest of the structure is modelled.