Many more jars and bottles have followed the initial discovery, all coming from the same, but now larger, 3′ x 3′ section of the woodlot, shown below.
Below are a few examples of unbroken glassware with design patents imprinted on their bases.
The middle jar's design patent is 80918, filed January 27, 1930, from Forest Hills, New York. The right bottle's design patent is 85925, filed April 1, 1931, from Toledo, Ohio. The left jar's design patent number is 93179, filed June 30, 1934, from Washington, Pennsylvania.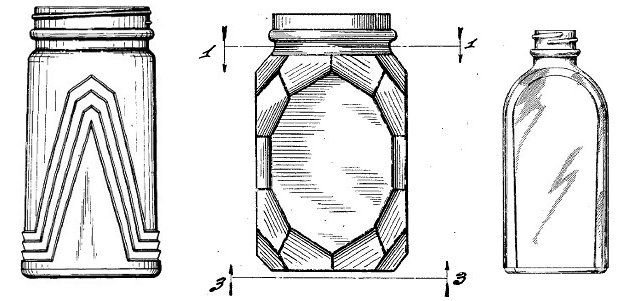 The majority of unbroken jars and bottles don't display design patents on their bases, but those that do have, so far, all been patented in the 1930's. So, the thinly buried pile of glass in that small area of the woodlot may have begun to accumulate in the thirties or forties.
Most of the unbroken bottles and jars don't have design patents on their bases. However, the fantastic Historic Bottle Website will enable further dating of these pieces. An initial review suggests that most are from 1950 or later…